Olympics Soccer: 5 athletes to watch
The US men did not qualify for the tournament, but the Team USA women are among the favorites at the London Olympics. Certainly, among aficionados, the Olympics are a pale runner-up to the World Cup. But the Games provide a large stage, and the tournament promises a glimpse of some of the world's top and rising stars.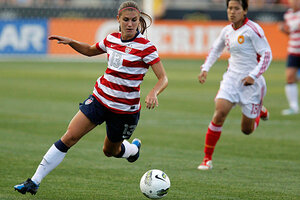 Tim Shaffer/REUTERS/File
1.

Alex Morgan, USA

Alex Morgan is that rarest of commodities in soccer: a born scorer. In a sport where scoring is often one-third skill and two-thirds intuition and invention, Morgan is the consummate opportunist, crafting goals from the slightest of opportunities.

Bursting on the scene at the 2011 Women's World Cup, Morgan has now established herself as one of the top forwards in the world and the perfect foil for teammate Abby Wambach. While the towering figure of Wambach wins battles by sheer physical force, Morgan glides between defenders like an apparition. As a tandem, they are perhaps the most devastating in the women's game.