London 2012 Olympics: 5 best venues
The sports are the centerpiece of the London 2012 Olympics, but where they take place has been a big part of the spirit of the Games. London has some unique venues, and some particularly loud ones. Here are the five best.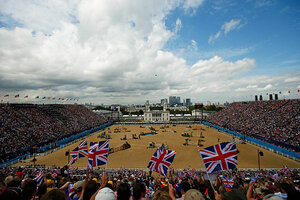 Brian Snyder/REUTERS
5.

Greenwich Park, Greenwich (London)

Greenwich Park is, quite simply, a lovely place to spend an afternoon watching the equestrian events. A royal park set aside by Henry VIII for deer, the equestrian stadium is situated at the bottom of a hill overlooking a picturesque collection of classical buildings, the Thames, and the steel-skinned skyscrapers of Canary Wharf beyond. Above, the Royal Observatory keeps watch – literally. It is why London is at 0º longitude and why the world's first time zone is known as Greenwich Mean Time.

True, the stadium is a London special – one of the many temporary scaffolding monsters erected around the city. But the location more than makes up for it. Spectators lounge amid flowered gardens on freshly trimmed lawns, and on either side of the stadium, rows of beech trees soften the scene.