Egypt's military rulers face heightened threat from shadowy militant group
Ansar Bayt al-Maqdis, which claimed responsibility for a deadly attack in Cairo last week, says it considers the military 'non-Muslim.' It stepped up attacks after former President Morsi was ousted.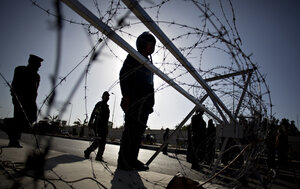 Khalil Hamra/AP
A shadowy militant group based in Egypt's Sinai peninsula has set its sights on Egypt's mainland, bringing a building insurgency to the heart of the capital.
Ansar Bayt al-Maqdis, or Supporters of Jerusalem, claimed responsibility for a powerful car bomb that killed four people in Cairo Friday. Members of the group also appear to have shot down an Egyptian military helicopter in the Sinai Saturday with a shoulder-launched surface-to-air missile (often referred to as a SAM). Gunmen killed a senior police official outside his home in Cairo today, but there is no immediate indication who carried out the attack. 
The group, founded in 2011, largely focused attacks on Israel and the northern Sinai until the military deposed former President Mohamed Morsi, previously a Muslim Brotherhood leader, last July. After security forces killed more than 1,000 of his supporters, many of them Islamists, Ansar Bayt al-Maqdis began shifting its focus to security forces and police officials in Egypt's mainland in retaliation. The group has now claimed responsibility for two car bombings in Cairo, raising fears of a sustained and increasingly deadly insurgency that will make such violence a regular part of life in the Nile Valley. 
In a statement released in December, the group said it deemed the Egyptian military non-Muslim because it fights those who attempt to impose Islamic law, and protects a secular form of government. It warned members of the security forces to abandon their posts to avoid attack. "We are the most resolute and determined to carry out the command of Allah and his messenger to do jihad against you and fight you until all the religion is for Allah," it said, according to a translation by SITE Intelligence Group.
Ansar Bayt al-Maqdis "has proven itself a militarily capable group with the capacity to target Cairo on several occasions," wrote Charles Lister, a visiting fellow at the Brookings Doha Center, in an email. "Its fast issuing of claims of responsibility and proven track record of carrying out both practically and symbolically damaging attacks suggests it will continue to pose a considerable threat to Egyptian security. Further attacks are highly likely, particularly considering the attention that its operations are gaining the group within the jihadist community." 
Friday's car bomb, which targeted the capital's security headquarters, was the second car bombing in the capital since the August crackdown on Morsi supporters. The first was a failed assassination attempt on Egypt's interior minister, who controls the police, in September, which Ansar Bayt al-Maqdis also claimed responsibility for. The group also claimed a Dec. 24 car bombing in the Nile Delta city of Mansoura at the provincial security headquarters that killed 16 people.
On Sunday, the group released a video that appeared to show one of its members shooting down an Egyptian military helicopter in the northern Sinai. A man in the video, his face blurred, fired a man-portable air defense system, or MANPAD, which could be seen streaking into the sky. The video then focused on the helicopter, which burned as it fell toward the ground and crashed, killing five crew members. The video confirms fears that the portable surface-to-air missiles that disappeared during the war in Libya made their way into the hands of militant groups in the Sinai. 
Ansar Bayt al-Maqdis was founded by Egyptians, and experts say it recruits in the Sinai as well as Egypt's Nile Delta, north of the capital. David Barnett, a research associate who studies the group at the Foundation for the Defense of Democracies in Washington, describes the group as "at a minimum Al Qaeda-inspired."
The group has not made public any declaration of allegiance to Al Qaeda, but posts its messages on an online forum used to distribute Al Qaeda propaganda, and has included clips of prominent figures from the global terrorist network in its video messages, Mr. Barnett says.  
There's no hard evidence that the group includes non-Egyptian fighters, but analysts say it's possible.
"The group has acquired a considerable reputation within the jihadist community for having expanded its operations right into the heart of the Egyptian state in Cairo, and as such, it will certainly have attracted the attention of potential recruits from abroad," said Mr. Lister.
Mr. Barnett notes in The Long War Journal, a website from the Foundation for the Defense of Democracies, that in a recently released audio message, Al Qaeda leader Ayman Al Zawahiri directed a message to "our people in Sinai," and called on them to "offer sanctuary to your brothers the muhajireen," referring to foreign fighters.
In recent video statements, Ansar Bayt al-Maqdis called on members of Egyptian security forces to leave their posts, warning that they were targets. In the group's statement claiming responsibility for Friday's car bombing in Cairo, which it said was remotely detonated, Ansar Bayt al-Maqdis said it was "facing difficulties" conducting its attacks without "inflicting harm in the ranks of Muslims."
Most of its attacks so far appear designed to minimize civilian casualties while targeting security forces. Friday's bombing took place early in the morning, on the first day of the weekend, when streets were largely empty. The group also warned of more attacks.
Some Egyptian government officials have accused the Muslim Brotherhood of carrying out attacks claimed by Ansar Bayt al-Maqdis, and have suggested the group has ties to the Brotherhood. The Brotherhood, which renounced violence decades ago, denies such charges, and has condemned the attacks. 
Barnett and Lister say there's little evidence of ties between the two organizations.
"Ansar Bayt al-Maqdis have on numerous occasions denounced the Brotherhood," says Barnett, adding that the group does include some former Brotherhood members. "They specifically left the [Brotherhood] because it was not adopting violent jihad. If Ansar Bayt al-Maqdis were an extension of the Brotherhood, why would they have to denounce the Brotherhood?"