Captain For Life: My Story as a Hall of Fame Linebacker
While football star Walter Payton's biography is making headlines, don't miss 'Captain for Life,' Harry Carson's poignant and revealing autobiography.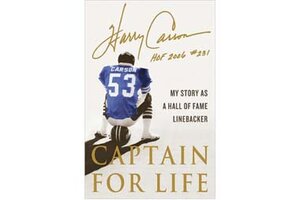 Without question, the blockbuster football book of this season has been "Sweetness: The Enigmatic Life of Walter Payton." But there is another work that shouldn't be lost under the pile of recent releases. That's Harry Carson's Captain for Life: My Story as a Hall of Fame Linebacker.
Payton, once a megawatt running back for the Chicago Bears, is surely is the better known of the two players, and his story, as told by biographer Jeff Pearlman, is a legitimate page-turner. Carson's book, however, is every bit as fascinating, revealing, and poignant as Payton's.
In a number of ways, the two players' stories are similar – yet also widely divergent. Both, for example, grew up in the deep South as integration dawned. Both were band members who emerged as high school football stars, went on to play at historically black colleges (Jackson State and South Carolina State), and captained pro teams in major Northern cities (Chicago and New York) that shed losing images to win Super Bowls. They also both played for coaches with outsized personalities (Payton for Mike Ditka and Carson for Bill Parcells) and were both elected to the Pro Football Hall of Fame, although in far different ways – Payton in his first year of eligibility, Carson in his 13th.
---