Poll: God helps Tim Tebow win football games. Does Tim Tebow agree?
A new poll shows that 43 percent of respondents think divine intervention plays some role in the success of Denver Broncos quarterback Tim Tebow. But what is he praying about?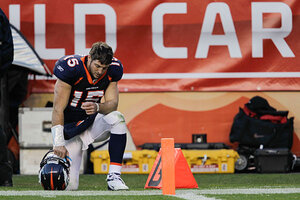 Joe Mahoney/AP
The question, it seems, had to be asked: Does God help Tim Tebow win football games?
According to a new poll by the website Poll Position, 43 percent of Americans say "yes."
But how would Tim Tebow himself answer the question?
The perception is that as Tebow is kneeling on the sidelines during a game, he is praying to win. One of Tebow's pastors has only added to that perception, telling the celebrity gossip website TMZ that a recent Broncos six-game winning stream was "God's favor."
Asked if a less-pious quarterback would be winning such games, Pastor Wayne Hanson of Summit Church in Castle Rock, Colo., said: "No, of course not."
To be sure, Tebow would – and does – credit God for all he accomplishes on the football field. But the idea that he prays for his team to win doesn't appear to be quite correct.
The National Football League mic'd Tebow during the Broncos' come-from-behind, 13-10 win over the Chicago Bears on Dec. 11, and besides offering indisputable proof that Tebow has no future whatsoever as a singer, the video also caught him making the following prayers.
Before the game, he prayed aloud:
"Lord put a wall of protection around me and my teammates today, and we go out there and we can honor you with everything we do and say. I love you in Jesus' name."
During the fourth quarter, he prayed:
"Dear Jesus, I need you. Please come through for me. No matter what happens, win or lose, give me the strength to honor you."
---