Tim Tebow: Denver Broncos upset shows why he never needs to be great
Tim Tebow led the Denver Broncos to an upset win Sunday by being an average passer of the football. If he keeps that up, Tim Tebow could be a quarterback in a class all his own.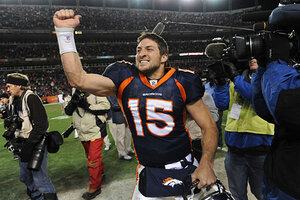 Chris Schneider/AP
The Denver Broncos' dramatic 29-23 overtime win against the Pittsburgh Steelers was not proof that quarterback Tim Tebow is the next John Elway. Rather, it was proof that he might never need to be.
For as long as pro scouts have analyzed Tebow, they have made that comparison – they have put him up against proverbial the bedroom door of quarterback legend and measured him next to the marks left by Tom Brady, Drew Brees, or Aaron Rodgers.
That measuring stick makes sense, after all. The National Football League is in its Golden Age of the Quarterback. An elite passer is the one indispensable integer in pro football's current winning formula. And by that measure, Tebow is a kindergarten quarterback.
RECOMMENDED: Are you smarter than Tim Tebow? Take the QB Quiz.
His mechanics are a mess. His accuracy is more shotgun than sniper. His passes often wobble like wounded clay pigeons.
But on Sunday, Tebow took the first real steps toward telling the football world that there might be another measuring stick. One that applies only to him.
The Broncos pulled off the biggest upset of the weekend for many reasons. But foremost among them was that Tebow was at least an average passer. Some of his throws were arcing darts of genuine skill. Some failed to find the intended area code.
But, on balance, he made the important throws that the defense gave him. If he can find a way to do that more consistently, he could become a revolution of one.
The fact is, Tebow presents challenges to a defense that no other quarterback in pro football can. Essentially, he is a running back who can throw.
---