Tim Tebow: Is it true that 'all he does is win' ... and pray? (VIDEO)
Tim Tebow faces another big football test this weekend with a Sunday game against New England. The quarterback has seen the ranks of off-field followers soar, as 'Tebowing' in prayer (real or pretended) goes global.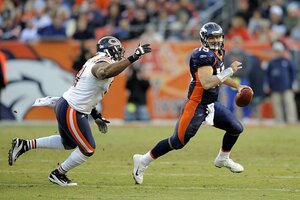 Jack Dempsey/AP
If you were part of an alien reconnaissance team visiting Earth this December, you'd be forgiven for thinking the world is ruled by someone named Tim Tebow.
OK, he's not the president. He's not the premier of China or the head of the Federal Reserve.
But as quarterback for the Denver Broncos, let's just say Mr. Tebow wields some impressive power over the collective consciousness – an influence that extends well beyond the Mile High City.
For the record, he's led the Broncos to victory in seven out of eight games since taking over as QB following the team's rough start this year. He's made a specialty of come-from-behind dramas that elicit the word "miracle" even from some commentators who don't share Tebow's passion for bended-knee Christian prayer.
RECOMMENDED: Are you smarter than Tim Tebow? Take our quarterback quiz.
On Sunday, Tebow and the Broncos face one of the toughest tests of strength, a matchup against the New England Patriots. The game will be played in front of a home crowd in Denver.
In addition to boasting their own star quarterback, Tom Brady, the Patriots will pit their high-powered defense against a team that has often struggled to do much scoring, even since Tebow started calling plays.
---