Abundance: The Future is Better Than You Think
Hoping for a better world – quickly? "Abundance" promises to take you there.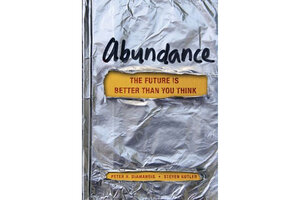 Ribs grown in a petri dish. Miniature solar panels that double as windows. Pristine water filtered from chemical waste.
These seemingly far-fetched technologies give you the impression that Peter Diamandis' and Steven Kotler's new book, Abundance: The Future is Better Than You Think, is plucked straight out of the sci-fi section.
But don't be fooled.
Abundance is not fantasy. It is a tale, say authors Diamandis and Kotler, of "good news;" a spritely and exciting collection of reasons why, despite the ever-constant refrain that Earth is on the verge of disaster, we must stay positive.
If anyone could qualify as harbingers of good news, it would be Kotler and Diamandis. Kotler, a journalist and author, has covered science and technology for dozens of publications, and met Diamandis while covering the X Prize Foundation. Diamandis' brainchild, the X Prize Foundation is a nonprofit that runs incentive-based competitions to bring about "radical breakthroughs for the benefit of humanity." Past winners have invented suborbital, reusable spaceships and technologies to clean oil off the surface of the ocean.
The authors argue that these sorts of technological achievements – evidence of exponentially growing technologies – are just one small part of why the next quarter century will bring about a world of abundance. Coupled with the giving of technophilanthropists, a do-it-yourself culture, and what the authors term "the rising billion," this abundant world will be one where anything is possible, "a world where everyone's days are spent dreaming and doing, not scrapping and scraping."
---