Five simple things to reduce food waste
(Read article summary)
Having enough food for everyone begins with reducing waste – from buying less and storing it properly to sharing more.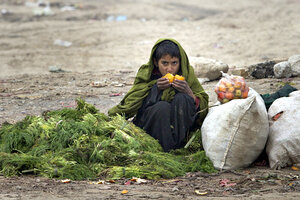 Faisal Mahmood/Reuters/File
The United Nations Food and Agriculture Organization reports that an estimated one-third of the food produced worldwide for human consumption is wasted annually. In the United States, an estimated 40 percent of edible food is thrown away by retailers and households. In the United Kingdom, 8.3 million tons of food is wasted by households each year.
To make the world more food secure consumers need to make better use of the food that is produced by wasting less.
Today, Nourishing the Planet presents five ways that consumers can help prevent food waste:
1. Compost: In addition to contributing to food insecurity, food waste is harmful to the environment. Rotting food that ends up in landfills releases methane, a potent greenhouse gas, that is a major contributor to global climate change and can negatively affect crop yields. Composting is a process that allows food waste to be converted into nutrient-rich organic fertilizer for gardening.
Compost in Action: In Denver, the city contracts with A1 Organics, a local organic-recycling business, to take people's waste and turn it into compost for local farmers. Similarly, a new pilot program in New York City allows patrons to donate food scraps to a composting company that gives the compost to local farmers.
---