In Africa, producing food from waste
(Read article summary)
Farmers in southern Africa use composted food scraps, human waste, and livestock manure for many purposes, from enriching soil to feeding fish.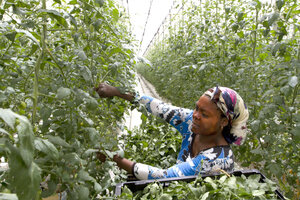 Rogan Ward/Reuters
In sub-Saharan Africa where nearly a third of the population is hungry, over a quarter of food produced is lost to spoilage. And the hundreds of millions of livestock on the continent are responsible for degrading almost half of crop land on the continent, which makes up over one-third of overgrazed lands worldwide.
But the uneaten food, manure, and other forms of waste are being used by farmers to produce fertilizer, fuel, and food.
South Africa has been diverting organic matter from its landfills since 1969. About 2 percent of waste generated in Cape Town, and 15 percent in Johannesburg, is diverted through composting.
In Johannesburg, compost sales were projected to completely offset production costs by 2006. Two other municipalities operate smaller-scale composting facilities in the country. A project funded by the World Bank in Uganda has nine municipalities establishing composting plants.
---