Will Allen wants to start a 'good food revolution'
(Read article summary)
His urban farm provides access to affordable fresh food in low-income neighborhoods.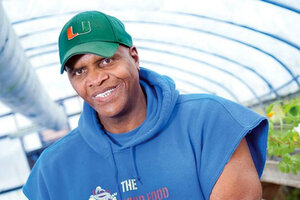 Photo by Pete Amland/ UWM
Will Allen has the charisma of a professional athlete – which he was. He has the organizational skills of a business executive – and he was that, too.
He's also winner of a MacArthur "Genius" Fellowship. Since 1993, he's done what he loves best: returned to his roots as a farmer. But not just any farmer. "Social justice is wrapped around everything that we do – every step that we take every day is about social justice and food justice," Allen says.
Allen is founder and CEO of Growing Power, two acres of greenhouses growing food fertilized with worm compost or with fish waste from the low-cost aquaponics system that he designed. It's located on the outskirts of Milwaukee, in a part of town burdened with low income and without full-service grocery stores.
Providing fresh food in an urban food desert is a big part of what Growing Power does. But it also is involved in more than 70 projects and outreach programs across the country and around the world.
One of them, Growing Power Chicago, is run by Allen's daughter, Erika.
Another, Feed Denver, is a research and education center for urban and sustainable agriculture and one of Growing Power's 15 regional outreach training centers. Lisa Rogers, executive director of Feed Denver, says that Allen has a way of talking about growing food that makes sense.
---