Escape from Camp 14
This true story of life in a North Korean prison camp may be the most disturbing book that you will ever read.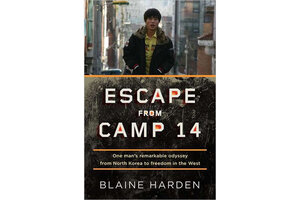 Escape from Camp 14 is the most devastating book I have ever read. Perhaps the resilience of youth got me through the aftermath of learning about slavery, the Holocaust, even Iris Chang's now-classic "The Rape of Nanking: The Forgotten Holocaust," the title I previously held as the most horrific testimony of inhumanity.
More recently, I cried through 2010 National Book Award nonfiction finalist Barbara Demick's "Nothing to Envy: Ordinary Lives in North Korea." I ignorantly questioned the veracity of the torturous conditions in Adam Johnson's recent, deservedly bestselling novel "The Orphan Master's Son." I paid attention to headlines about North Korea's potential nuclear threats and the succession of Kim Jong Eun to the mythic Kim Dynasty.
But nothing prepared me for the odyssey of North Korean Shin Dong-Hyuk as told by journalist Blaine Harden, former Washington Post bureau chief for East Asia, Eastern Europe, and Africa. Shin, who changed his name "after arriving in South Korea, an attempt to reinvent himself as a free man," is the only known North Korean who was born in a prison camp to have escaped and survived.
---