How serious is the bombast from North Korea?
North Korea issued more heated rhetoric denouncing the annual US-South Korea military drills that started today.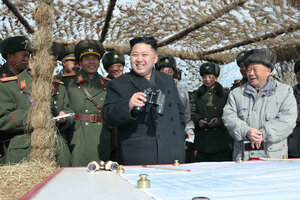 KCNA/REUTERS
Thousands of South Korean and US troops opened annual war games today against the background of strident rhetoric from North Korea.
The verbal blasts from Pyongyang appeared considerably more inflammatory than usual, raising searching questions as to the nature and intentions of a regime now ostensibly led by the untested third-generation heir to the North's ruling dynasty.
US and Korean analysts worry about the meaning of the threats from North Korea as the country's youthful new leader Kim Jong-un asserts his authority in increasingly strong terms. The critical question is whether the rhetoric is just a somewhat louder version of the denunciations regularly fired by North Korea during war games before the death of Mr. Kim's father, Kim Jong-il in December.
"We don't know if Kim Jong-un plays by the same playbook or by something wholly different given his lack of experience and the need to legitimize himself as a 'strong' leader," says Victor Cha, who directed Asian affairs for the National Security Council during the presidency of George W. Bush.
Dr. Cha says he's watching "with greater apprehension any negative rhetoric coming out of the North. Before, we could chalk it up to typical North Korean tactics."
---