Digital Vertigo
Are Facebook and Twitter really forms of "an absurd global prison where we are all forced to live in public?" Author and Silicon Valley entrepreneur Andrew Keen is afraid that the answer is yes.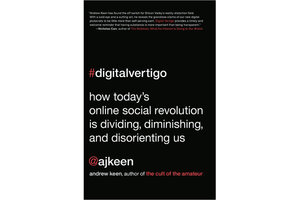 The Internet has been good at spawning neologisms. One that is particularly indicative of the times is "twitchfork mob:" a group of people using Twitter to protest, harangue, or expose people they don't like or agree with. In 2011, after the British High Court barred media from revealing the identity of a soccer player who had an extra-marital affair, over 70,000 people took to Twitter to name and shame the sportsman.
It is this "dumb herd" – and more broadly what he sees as the cult of social media – that author and Silicon Valley entrepreneur Andrew Keen takes on in Digital Vertigo. "Internet browsers, search engines, and e-mail services – the trinity of technologies that shape our daily Internet use – are becoming social," Keen writes. If you have a start-up in Silicon Valley, chances are it's social, whether it's social gaming or social ice-cream making.
All of this, according to Keen, is a very bad thing. Social media is "actually splintering our identities so that we always exist outside ourselves, unable to concentrate on the here-and-now, too wedded to our own image, perpetually revealing our current location, our privacy sacrificed to the utilitarian tyranny of a collective network." Rather than bringing us together, Keen argues, social media is dividing us.
Despite what Mark Zuckerberg might think, Keen argues vehemently that we shouldn't allow our privacy to slip away. He skewers the idea of "publicness" held by web theorists such as journalism school professor Jeff Jarvis. According to Keen, Jarvis argues that living in public "will result in a more tolerant society because everything will be known about everyone and thus traditional social taboos, such as homosexuality, will supposedly be undermined."
---