Darwin's Ghosts
Rebecca Stott tells the stories of the intellectuals who grappled with the theories of evolution and natural selection centuries before Darwin got there.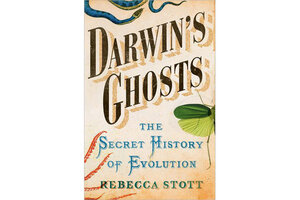 It makes for a tidy narrative when the history of a theory parallels the theory itself. In Darwin's Ghosts: The Secret History of Evolution, Rebecca Stott takes full advantage of this parallel. Readers of her 2,000-year history of the development of the theories of evolution and natural selection will notice that these theories developed through adaptation, false starts, movements backwards and forwards, meanderings, and finally – as Stott points out in her epilogue – by "convergent evolution," when several scientists independently developed similar theories of natural selection.
If the history of science is not your strong suit, you might pause at the news that Stott's book spans 2,000 years, since basic history has it that 19th-century Englishman Charles Darwin pioneered the theory of evolution by natural selection. But as Darwin discovered from the outpouring of letters he received when he published "On the Origin of Species" in 1859, intellectuals had been studying the origin of species and theories of evolution for thousands of years.
Horrified, Darwin began a list of his predecessors and added it to subsequent editions of his book. In her book, Stott devotes one chapter each to many of the men on Darwin's list, and to some Darwin did not know about. She describes their research, their preoccupations, the dangers they faced, and their contributions to natural science's understanding of how different species came to be.
Stott's narrative moves from ancient Greece, where Aristotle obsessed over sponges and other animal forms; to medieval Basra, where author Jahiz studied ecosystems and animal adaptation; to the 18th-century Hague, where a regenerating polyp discovered by a tutor electrified European intelligentsia and caused them to question longheld beliefs about life and the primacy of humans; to the British Isles in the mid-1800s, where a book written anonymously by publisher Robert Chambers permanently awakened British curiosity about species origins.
---