Iron Curtain
You won't find a better book about the beginnings of the Cold War than this National Book Award-nominated study by Anne Applebaum.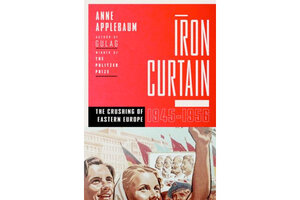 Among most Cold War scholars, there is agreement that both America and the Soviet Union contributed to the Cold War's beginnings. Washington Post columnist Anne Applebaum believes that notion must be revised. "Although Nazi-occupied Europe was eventually liberated, [Soviet dictator Josef] Stalin never gave back the territories he occupied in the first phase of the war," she writes in her deeply researched, exciting new book. The Soviet Union was intent on maintaining domination in Eastern and Central Europe from the outset of World War II. No amount of goodwill from the West could have changed that view, she claims.
Iron Curtain opens with an interesting tale, culled from the author's interviews. In 1945, a charitable organization called the Polish Women's League assisted refugees returning to the country after the devastation of World War II. The members were independent, unpaid, and apolitical. Five years later, the group had become an organization parroting the views of the Polish Communist Party, celebrating Stalin's birthday, and attacking Western imperialism.
In Applebaum's telling, the swift rise and fall of the Polish Women's League was a microcosm of the transformation all of Europe to the west of Russia underwent. Stalin "impose[d] his particular vision of communist society on his neighbors," she writes. "Iron Curtain" explains how this process occurred. It describes how the Soviets instituted domination in every country, of the local police, radio stations, political parties, economic systems, youth groups, and even artists' organizations. Millions were ethnically cleansed and persecuted when they even remotely deviated from Communist orthodoxy.
---