Invisible Armies: An Epic History of Guerrilla Warfare from Ancient Times to the Present
Max Boot's entertaining history teaches valuable lessons, but sometimes draws shaky conclusions.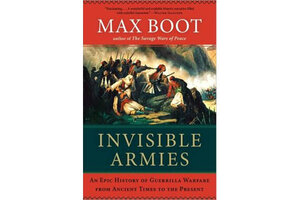 After the failures in Iraq and Afghanistan, Americans clearly have no appetite for what is frequently termed nation-building but is more aptly called state-building. Significantly, even while Mitt Romney's recent presidential campaign promoted foreign-policy plans generally indistinguishable from those of the George W. Bush administration, the Republican candidate never called for the United States to invest billions to turn Afghanistan and Iraq into model liberal democracies.
Max Boot is among those few who believe that Bush didn't do enough to win Iraq and Afghanistan. The problem, he wrote on the 10th anniversary of 9/11, was that the Bush team didn't do enough in those countries, as they "succumbed to their reflexive suspicion of nation-building and allowed events to spin out of control in Iraq and Afghanistan."
---