Portrait Inside My Head
Phillip Lopate reflects on baseball, Brooklyn, and a mixed bag of other topics in his new collection of essays.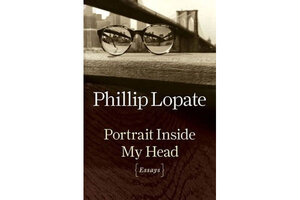 "A series of miscellaneous essays, however well-executed in the parts, if it have not some pervading character to give a unity to it, is ordinarily as tormenting to get through as a set of aphorisms, or a jest-book." – Charles Lamb
In the introduction to his latest book of essays, Portrait Inside My Head, Phillip Lopate quotes the English essayist Charles Lamb on the difficulty of writing an essay collection without some thematic focus. Lamb felt that only a few could make essays on even the most disparate subjects cohere into a compelling whole. His list of these rare talents was short: Montaigne, Plutarch, Hazlitt, and Samuel Johnson. Even if it's tempting to add David Foster Wallace, Wendell Berry, or Christopher Hitchens to Lamb's list, the basic principle seems sound: Avoid writing a book of heterogeneous essays unless you are very talented indeed.
Lopate is something of a connoisseur of the personal essay. He directs the graduate nonfiction program at Columbia, and his book "To Show and To Tell: The Craft of Literary Nonfiction" will also hit stores this month. A previous anthology of his work, "The Art of the Personal Essay" was published in 1997. Though he has written fiction and poetry in the past, Lopate sees the personal essay as an ideal blend of possibilities, a form that combines "the storytelling aspects of fiction with the lyrical, associative qualities of poetry."
---