Gods and Beasts
Denise Mina's latest spins a web of Glasgow connections and corruption.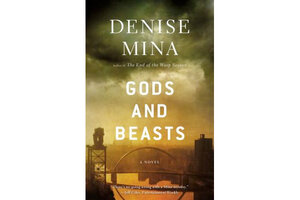 Reviewed by Anna Mundow for Barnes & Noble Review
The Scottish writer Denise Mina may be regarded as a crime novelist, but that has never been the whole story. From her first novel, "Garnethill," to her latest, Gods and Beasts, Mina has resisted neat classification. Her fiction, set mainly in Glasgow, is too subtle to be "tartan noir." Her protagonists are often female, but they are too complicated to be heroine sleuths, too difficult to pin down. Paddy Meehan, for example, who first appeared as a watchful girl in "Garnethill," became the prime investigator in "Field of Blood." Now Meehan, an established journalist, is barely glimpsed in "Gods and Beasts," while Detective Sergeant Alex Morrow, familiar from "The End of the Wasp Season," is Mina's chief character.
More confident these days in her hard-won authority, Morrow is as shrewd as ever, whether she is studying a suspect or a fellow cop. "It felt strange to have that double perspective," she reflects as she listens to an anxious, perhaps guilty, colleague, "to have to calculate the gulf between what was said and what was meant" (a Jamesian observation that also sums up what Mina does so well).
"Gods and Beasts" opens, however, in a straightforward way with a crime, or rather its aftermath. A young man sits on a curb, in shock, cradling a toddler, "koala-clamped to his chest," strangers welded together by casual violence. During the armed robbery of a post office, the child's grandfather has been shot to death. Martin Pavel, a bystander, is left holding the boy and replaying the bloody image: "automatic fire, red explosions on the old man's back, the tilt of his torso, the greasy slide."
---