Down the Up Escalator
Barbara Garson tells the stories of Americans who have lost jobs – and hope – during the Great Recession.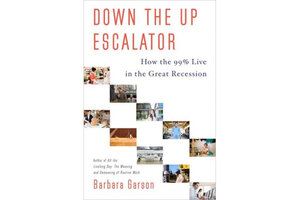 The generation that went to Woodstock, fought with police against the Vietnam War, and later, enjoyed a "me" decade – the "Baby Boomer" generation – has taken part in transforming our economy into a system that many regard as genuinely hostile to "the people."
Now a participant in 1960s social activism has written a book showing in sharp relief the impact of decades of downsizing and outsourcing on families and on some of the good-paying jobs that once sustained the American middle class.
Down the Up Escalator: How the 99% Live in the Great Recession is a three-part opus in which Barbara Garson befriends and tells the stories of people who can't find work, people who are losing their homes, and people whose savings have evaporated.
Amid this contemporary Brothers Grimm collection are Garson's savvy views on how chunks of America ended up on a down escalator. She comments, "[U]nlike the Great Depression, the Great Recession didn't narrow the wealth gap.... For all our bruises we merely went into a deep pothole and emerged on the same rough and dangerous road."
Many of Garson's stories are heartbreaking. She tells of Alice Epps from California. When the interest on her adjustable-rate mortgage rose to 17 percent and then her son was murdered, she got behind on payments. Her herculean efforts to arrange a loan modification, and the thousands she paid in fees, did virtually nothing to reduce her debt or enable her to keep her home.
Some may disagree with Garson's view that too much capital has been invested in buying out competing companies, in real estate speculation, and in other schemes that do nothing to create new businesses and jobs to replace the well-paid ones lost in manufacturing and other business sectors. Others might take issue with her statistics, which often come from sources with a strong liberal bias. But there is no arguing with what's happened to millions of people who, during an earlier era, would be thriving, not struggling to survive.
---