Radical: My Journey out of Islamist Extremism
Maajid Nawaz offers a riveting look at how his time in jail changed his views of Islam and its place in the world.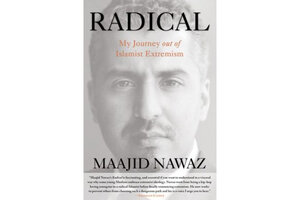 So why did "a Western-born Muslim who first found his voice of rebellion through a heady diet of American hip-hop, graffiti, and dance" join Hizb ut-Tahrir (HT), a worldwide Islamist organization, and end up languishing in an Egyptian jail for four years?
Answer: Because Islamism gave his hip-hop identity a badass, exotically foreign sheen – and scared the white racists hounding him more than any rap song ever could. But this very Islamism, which Maajid Nawaz, author (with Tom Bromley) of the riveting Radical: My Journey out of Islamist Extremism succinctly defines as "the desire to impose any given interpretation of Islam over society as law," had much more in store for him. It plunged an earnest but frightfully ignorant and impressionable young man into conflicts far greater and more dangerous than the neighborhood scuffles he was getting into in Southend, his hometown in the southeastern part of England.
Nawaz, born into a Pakistani-British family in 1978, is today best known as co-founder and chairman of Quilliam, a think tank dedicated to countering the Islamist narrative of Muslim victimhood and revenge. (He may soon make a name for himself in politics; the Liberal Democrats have chosen him to run for a seat in the House of Commons in 2015.) Earlier, he gained renown of a more infamous variety as a rabble-rouser at London's Newham College and then as an international recruiter for Hizb ut-Tahrir, a group which aims to re-establish the Islamic caliphate not through violence but by convincing high-ranking military figures in any Muslim-majority country to topple the government and proceeding from there.
Another co-founder of Quilliam, Ed Husain (who also attended Newham), wrote an arresting account of his own history as an HT member, "The Islamist: Why I Became an Islamic Fundamentalist, What I Saw Inside, and Why I Left." The main difference between the two men's trajectories is shocking, and shows just how firmly fanaticism took hold of Nawaz. When a tough-talking Christian student at Newham was murdered by a non-HT Muslim acquaintance of Nawaz and Husain's during a knife-fight, a horrified Husain began his slow drift toward moderation. Nawaz, on the other hand, did not suffer any pangs of remorse for helping to foster a climate of Muslim supremacism and hatred of others. Indeed, he went on to recruit for HT in Pakistan and Denmark, was unfazed by the 9/11 terrorist attacks, and made his way to Hosni Mubarak's Egypt. This proved to be his undoing. In 2002, 24-year-old Nawaz and several others were arrested for HT-related activities under Egypt's Emergency Laws.
---