Encyclopedia Britannica puts an end to print publishing
(Read article summary)
The familiar Encyclopedia Britannica reference books will now only be published digitally, says the company.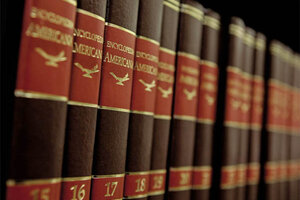 Taylor Weidman – CSM staff/archives
Whether it was a prized possession paid for in installments and lovingly displayed on the top shelf, a neglected doorstop, or simply non-existent in your household, you undoubtedly grew up familiar with the sight of the Encyclopaedia Britannica. But now the days of the handsome gold-lettered reference books are over.
Encyclopaedia Britannica Inc. announced Tuesday it will stop publishing print editions of its signature product for the first time in its 244-year history. In an acknowledgment of the shifting media landscape and the increasing reliance on digital references, the company said its current encyclopedia – the 32-volume, 129-pound 2010 edition – will be unavailable once the existing stock runs out. (If you're interested, it's yours for $1,395 and there are only 4,000 sets left.) The digital version of the encyclopedia, however, will live on.
"This has nothing to do with Wikipedia or Google," said Encyclopaedia Britannica Inc. President Jorge Cauz in an interview with the AP. "This has to do with the fact that now Britannica sells it digital products to a large number of people."
---