Jackie Kennedy, Susan Sontag, and Angela Davis: their Paris years
(Read article summary)
Jackie Kennedy, Susan Sontag, and Angela Davis may not have much else in common. But they'll always have Paris.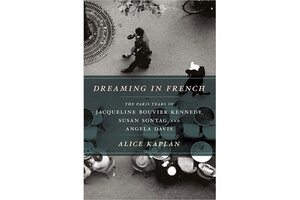 Jackie Kennedy, Susan Sontag, and Angela Davis could hardly be more different. Yet, as young women, each of these 20th-century icons spent a seminal year in Paris. In Dreaming in French, Yale University French professor and National Book Award finalist Alice Kaplan follows the three through their days in the French capital and considers the ways in which Paris left its mark on the rest of their lives. I recently had a chance to talk with Kaplan about the relationship of these three women to Paris, the magic of the city itself, and the ongoing importance of the "junior year abroad" experience. Here are excerpts from our conversation:
Q: You follow Jackie Kennedy, Susan Sontag, and Angela Davis through the year each spent in France. Which young woman was most profoundly impacted by her Parisian sojourn?
They were impacted in so many different ways that it's hard for me to choose. [But] Jacqueline Bouvier Kennedy got the intellectual sense of self that she would call on more in her life.
Susan Sontag got freedom. She got freedom from a marriage she never should have made. Paris was a place that gave her permission to live out her sexuality. She got a model of how to be an intellectual without being in a university. That was really key for her. What she had was like a model of a way of life.
---