Military historian Michael Stephenson: Who dies in battle and how?
(Read article summary)
'They've always been young, and they've nearly always been poor,' Stephenson says of our soldiers.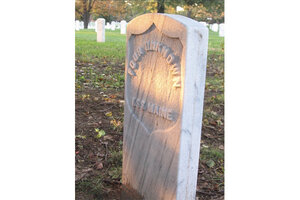 Randy Dotinga
A few years ago, military historian Michael Stephenson came across the graves of two British soldiers near his home in Dorsey, England. One died in the First World War, the other in the second. They were father and son, bound by blood and the way theirs was spilled.
"When I saw them, I thought about how we owe a debt to the people who have died in war," Stephenson says, "and the best way could I pay it would be to look at the factors throughout the centuries that contributed to their deaths."
He does just that in his new book "The Last Full Measure: How Soldiers Die in Battle," a sobering and crucial look at the evolution of death on the battlefield and the ways that warriors come to terms with serving as killing machines.
I reached Stephenson at his home in New York City, where he now lives, and asked him what divides and binds the soldiers of human history.
Q: What is the main theme of your book?
A: On one level, my book is really about the mechanics of soldiers getting killed, what happened in terms of weaponry and the development of weapon technology and tactics.
The great arc is from close-up fighting to very distant fighting, of the soldier getting farther from the person who will kill him.
The 2,000th American soldier in Afghanistan was just killed. Most of the deaths in Afghanistan and Iraq, and going back to World War I, were delivered to the soldiers from a very great distance.
We live in a disassociated society. The soldiers we send to Iraq and Afghanistan are a tiny minority, and we as a society are disassociated from their experience. We're distant from these men, and they're distant from the ones who kill them.
Q: What has this distance meant?
---