Google's Nexus 7 tablet: better than Kindle Fire?
(Read article summary)
Google revealed its new Nexus 7 tablet device with fanfare, and early reviews are promising.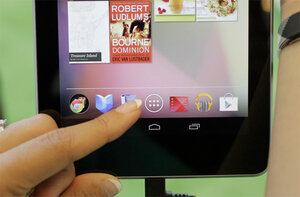 Paul Sakuma/AP
With the dramatic unveiling of its Nexus 7 tablet (we hear skydiving was involved), Google has both dived headlong into consumer electronics and shaken up the Apple-Amazon tablet wars.
Google announced the release of its first tablet, the $199 Nexus 7, at its San Francisco developers conference Wednesday. More than just another tablet to enter the hot new market, the Nexus 7 illustrates Google's determination to reinvent itself as a "lifestyle and culture purveyor" manufacturing its own hardware to compete with the likes of Apple and Amazon. It's a new direction for the company, and one that heats up the tablet wars in a big way.
The good news for bibliophiles? Unlike Microsoft's promising new Surface tablet, the Nexus 7 is compact, relatively affordable, and designed for e-reading. (Google's director of product management Hugo Barra actually compared the Nexus 7's form to a paperback book, touting the device's compact, easy-to-hold shape.)
"We want things to be simple, beautiful and really smart," said Mr. Barra at Wednesday's unveiling.
---