'Why Nations Fail': Is Egypt's new democracy real or a sham?
(Read article summary)
'Why Nations Fail' author Daron Acemoglu advises looking to Turkey's history for a hint.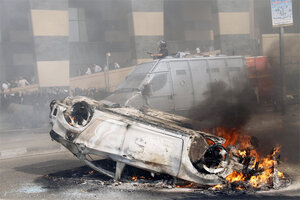 AP
Monitor managing editor Marshall Ingwerson chats with 'Why Nations Fail' co-author Daron Acemoglu.
The Mubarak regime that ruled Egypt, and looted its economy, for three decades is history. But the military that supported the regime is still very much in charge, has rolled back many of its promises, and sharply limited the scope of the recent election.
So is this a case of the more things change, the more they stay the same?
The lessons of history suggest that Egypt is indeed becoming a more inclusive democracy, but not on a fast track. MIT economist Daron Acemoglu, author of "Why Nations Fail" with Harvard political scientist James Robinson, notes that after the French Revolution in 1789, it took almost 80 years for a stable democracy to emerge.
"The hope is it will not take Egypt 80 years, but it would be naïve to think it would take two years."
A closer analogy may be Turkey. After 80 years of military rule that held power and economic opportunity very closely, the military was dislodged ten years ago by an Islamist party, the AKP, not unlike the Muslim Brotherhood that has dominated elections in Egypt.
---