'CBS This Morning Reads' kick off with 'Team of Rivals'
(Read article summary)
'CBS This Morning' launched their new interactive book club, 'CBS This Morning Reads.'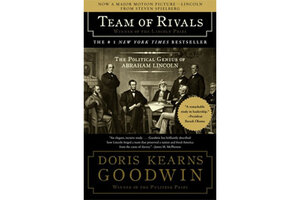 Co-hosts Gayle King, Norah O'Donnell, and Charlie Rose of "CBS This Morning" launched their new book club on Tuesday. First up for "CBS This Morning Reads" is "Team of Rivals: The Political Genius of Abraham Lincoln," by Doris Kearns Goodwin.
"Team of Rivals," a 2005 bestseller, tells the story of the 16th president and his rise to the title. Historian and Pulitzer Prize winning writer Goodwin takes readers through the Great Emancipator's mission to abolish slavery and keep America united. The book's focus, however, is not just on Lincoln but also on some of the men who served on his Cabinet. Goodwin makes it clear that Lincoln was not alone in the struggle for peace and the abolition of slavery.
Each week for the next month, "CBS This Morning Reads" will post excerpts from "Team of Rivals," reading guides, web extras, and interactive features on their website. CBS is offering the first chapter for free and can be downloaded here.
---