San Antonio plans one of the nation's first bookless libraries
(Read article summary)
The $1.5-million San Antonio library – which will have computers, tablets, and e-readers, but no paper books – will be like 'an Apple store.'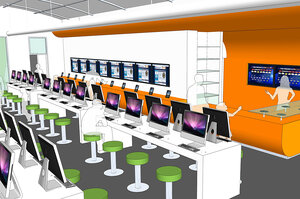 Courtesy of Bexar County Government
It may sound like an oxymoron, but it's no joke – a San Antonio library is planning to open one of the country's first bookless libraries this fall.
That's right, BiblioTech, a $1.5 million Bexar County paperless library will have scores of computer terminals, laptops, tablets, and e-readers – but not a dog-eared classic or dusty reference book in sight.
"Think of an Apple store," Bexar County Judge Nelson Wolff, who led his county's bookless library project, told NPR when describing the planned library.
The 4,989-squre-foot, digital-only library, one of the first of its kind, will feature 100 e-readers available for circulation, 50 e-readers for children, 50 computer stations, 25 laptops, and 25 tablets for on-site use. Patrons can check out e-readers for two weeks or load books onto their own devices.
"A technological evolution is taking place," Wolff says. "And I think we're stepping in at the right time."
It's a trend that appears to be catching on. As we reported on in a July 2012 post, "Bookless Libraries – has it really come to this?," a number of libraries, academic and public, have joined the paperless bandwagon. It began with academic libraries, including Kansas State University's engineering school, the University of Texas at San Antonio, Stanford University's engineering school, Drexel University, and Cornell. From there it spread to public libraries, including the Balboa Branch library in Newport Beach, California and even the New York Public Library, which doesn't plan a bookless future but "a future with far fewer books."
---