Haruki Murakami's new novel becomes an instant bestseller in Japan
(Read article summary)
"Murakami mania" has gripped Japan since the release of Haruki Murakami's new novel, 'Colorless Tsukuru Tazaki and His Years of Pilgrimage' at midnight on Friday. No English translation is yet planned.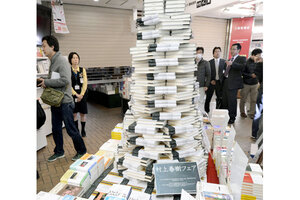 Kyodo News/AP
Murakami mania is sweeping Japan as "rockstar novelist" Haruki Murakami's latest novel hit Tokyo stores at midnight Friday after a three-year hiatus.
After months of tight-lipped secrecy, "Colorless Tsukuru Tazaki and His Years of Pilgrimage," a 370-page novel about loss and isolation, arrived to long lines, applause, and instant bestseller status in the island nation.
According to the UK's Guardian, "Hundreds of Huraki Murakami devotees queu[ed] at midnight outside Tokyo bookshops…. Newspapers and broadcasters rushed to post reviews of the book … [and] fans and journalists stayed up all night to get to grips with Murakami's first major novel in three years." (The UK's Telegraph notes that one bookshop even temporarily renamed itself after Murakami to mark the novel's release.)
Different from the cult novelist's massive three-volume love story, "1Q84," which made Murakami a global bestselling author and perennial Nobel Prize favorite, "Colorless" is a grimmer tale.
---