Dan Brown's 'Inferno' gets mixed reviews but tops sales charts
(Read article summary)
Dan Brown's new book following the adventures of hero Robert Langdon is centered around Dante's work 'Inferno.'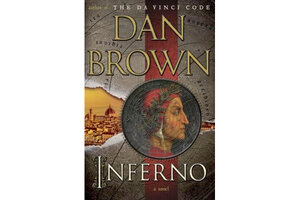 "Inferno," the novel by Dan Brown based around Dante's work of the same name, is publishing's newest blockbuster, boasting high sales despite mixed reviews.
Washington Post reviewer Monica Hesse writes that it's clear Brown has mastered his genre of page-turning historical mysteries: "He has perfected the breathless art of the cliffhanger chapter, the ooky villain, the historish backdrop."
However, Hesse says she found herself distracted at times by actual inaccuracies.
"A simple Wikipedia search tells me that one of the important artifacts is believed to be a reproduction, not the real thing the reader is led to think it is," she wrote. "The Consortium is real, too, Brown writes – and it might be, but would such an organization really have its headquarters in a giant yacht floating around in the Adriatic Sea? No matter. As with Brown's other works, it's more fun to read 'Inferno' when you accept that every whoa-ful tidbit is true."
She also poked fun at one of Brown's standard plot devices: the dying person who decides to leave enigmatic clues.
---