Dan Brown at Lincoln Center: more about his childhood than 'Inferno'
(Read article summary)
Dan Brown appeared at Lincoln Center to promote his new novel 'Inferno,' but focused more on his parents and his early years than his Dante-inspired book.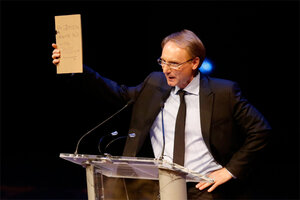 Jason Decrow/Invision/AP
Author Dan Brown has been on a media circuit plugging his latest blockbuster-in-the-making, "Inferno." But, according to reports, he's talking surprisingly little about the actual book.
Brown spoke with Today host Matt Lauer Wednesday evening at the Lincoln Center in New York where, it seems, he talked more about his parents, childhood, and upbringing than he did about his book.
Nonetheless, the conversation was revealing.
It turns out the constant tension between science and religion apparent in Brown's books are inspired by his childhood.
"I grew up the child of a church organist and a math teacher," Brown told the crowd of 2,000, introducing his parents, who were sitting in the audience. "I was pretty much confused from day one."
To illustrate his point, Brown brought along props: personalized license plates from both his parents' cars: KYRIE for his "Church Lady" mom, METRIC for his rationalist dad, as Shelf Awareness reported.
From childhood, he said, he became curious about the delicate balancing act between science and religion.
---