E-book price fixing: As the trial begins, here's what you need to know
(Read article summary)
Tthe US Department of Justice's suit against Apple alleging e-book price-fixing goes to trial on June 3 in Manhattan.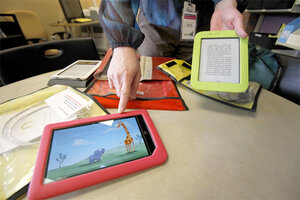 Shaun Stanley/The Durango Herald/AP
After months of accusations, court filings, and assorted settlements, Monday marks the start of a high-stakes trial in which the US Justice Department accuses Apple of price-fixing e-books.
The trial, which takes place in Manhattan, will provide insight into e-book pricing and how digital books changed publishing. It will also feature testimony from top executives from publishing as well as those from Apple, Amazon, and Barnes & Noble.
The DOJ's case, in a nutshell: The agency said last year that Apple conspired with five top publishers to raise prices for e-books in competition with Amazon. It alleges that in 2009, Apple met with top publishers and persuaded them to adopt a publishing model known as the "agency model" in order to drive up e-book prices. The agency model, in contrast to the traditional wholesale model, allows publishers to set the prices for e-books, then split the proceeds with Apple and the retailer. The result, according to the DOJ, is that e-book prices rose from the $9.99 standard set by Amazon to at least $12.99. The agency alleges that price fixing has reduced competition in the e-books industry and raised e-book prices.
Five publishers accused in the DOJ's suit have settled, some citing a lack of resources to pursue a legal battle. Apple has vowed to fight.
---