Is Amazon asking independent bookstores to sell Kindles?
(Read article summary)
Some independent booksellers say they've received calls from someone claiming to be an Amazon staff member, asking if they'd be interested in selling Kindle e-readers.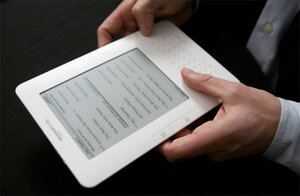 Mark Lennihan/AP
Is Amazon contacting independent bookstores and asking them if they want to sell Kindles?
Considering the animosity that some booksellers feel toward Amazon, it's a strange idea, and Amazon isn't commenting. But a handful of independent bookstores are reporting that they've received calls from someone claiming to be representing Amazon. According to the indie staffers, the caller asked if they'd be interested in working with the company to sell the e-readers.
As reported by independent bookstore newsletter Shelf Awareness, Los Angeles bookstore Skylight Books wrote a post on their Tumblr about a phone call the store had received from a representative claiming to be from Amazon. Appropriately enough, the post is titled "WHAT THE WHAT THE WHAAT!?!?" The post was written by a staff member named Charles.
"Apparently, [the caller] was given the task of reaching out to independent bookstores in order to 'build' a 'relationship' with the indies in order to 'partner' with us in a program to sell Kindles in our store…. yea, really," he wrote.
Charles wrote that he "stated flatly that we wouldn't be interested."
According to Charles, the caller expected the skepticism.
"He said he understood and that he knew Amazon was facing a number of 'hurdles' they would need to cross in order to implement this program," Charles wrote.
The caller asked Charles what would prevent his store from saying yes. Charles, according to his post, answered that: Amazon would need to start paying sales tax in every state; that Amazon would have to stop what Charles called its "predatory business practices"; and that the Kindle e-reader would have to be open-source. (Three indie bookstores recently sued Amazon and the six biggest American publishers, claiming that digital rights management of e-books is making it harder for them to sell electronic titles. However, some observers found fault with their logic. Check out the full story here.)
---