Wal-Mart waves goodbye to entire Amazon Kindle line
(Read article summary)
Following in Target's footsteps, Wal-Mart has announced it will no longer sell Amazon Kindle e-readers and Amazon Kindle Fire tablets.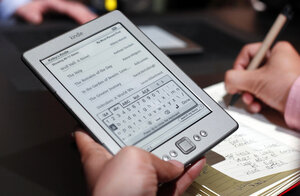 Reuters
Back in May, Target announced it would stop selling Amazon Kindle e-readers and Fire tablets. Now, several months later, Wal-Mart has followed suit, booting the Kindle line, which includes a range of Fire and Kindle devices, from outlets across the country.
"We have recently made the business decision to not carry Amazon tablets and eReaders beyond our existing inventory and purchase commitments," Wal-Mart said in an internal memo obtained by Reuters. "This includes all Amazon Kindle models current and recently announced."
So what's behind the shift? Well, a healthy sense of competition, mostly. Consider: Wal-Mart sells a range of household and homegoods products. Amazon used to be just a big bookseller, but in recent years it has become a bookseller that also sells television sets and food products and even deodorant. That's threatening to Wal-Mart and Target.
---