Apple e-mails are at the center of the DOJ e-book price-fixing trial
(Read article summary)
The Justice Department's e-book price fixing trial – alleging that Apple conspired to raise e-book prices – is scheduled to end this week.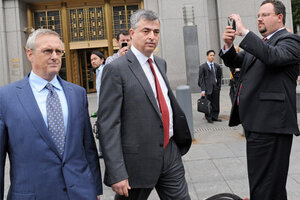 Louis Lanzano/AP
The late Steve Jobs and a series of mysterious emails dominated day nine of the Justice Department's e-book price fixing trial, which wraps this week.
The federal government is alleging that Apple was a ringmaster conspiring with five top publishers to raise e-book prices in an effort to unseat Amazon's dominance in the e-books market. The publishers have all settled their cases, leaving Apple as the sole defendant in the trial.
The DOJ and Apple sparred about the Apple founder's intent in several emails the government cited as evidence of the company's alleged role in raising Amazon's prices.
In one such email, dated Jan. 30, 2010, Jobs wrote to Eddy Cue, Apple's senior vice president of Internet software and sales, "Wow, we have really lit the fuse on a powder keg."
The DOJ argued that the email was a congratulatory note to Cue on how Apple's entry into e-books shook up the market, particularly Amazon, pressuring it to switch from the wholesale pricing model to agency pricing, where publishers set the price on e-books.
---