Judge finds Apple went against anti-trust laws in e-book price-fixing case
(Read article summary)
US District Judge Denise Cote found that Apple was part of a conspiracy to increase e-book retail prices. An Apple spokesperson maintained that 'we've done nothing wrong.'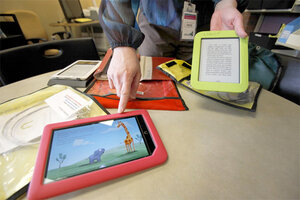 Shaun Stanley/The Durango Herald/AP
US District Judge Denise Cote ruled in New York that Apple was involved in a conspiracy to increase e-book retail prices, siding with the US Department of Justice.
"Apple chose to join forces with the publisher defendants to raise e-book prices and equipped them with the means to do so," Cote wrote in her decision. "Without Apple's orchestration of this conspiracy, it would not have succeeded as it did."
An Apple spokesperson, however, told the Wall Street Journal "we've done nothing wrong."
"Apple did not conspire to fix ebook pricing and we will continue to fight against these false accusations," the spokesperson, who was not named, said. "When we introduced the iBookstore in 2010, we gave customers more choice, injecting much needed innovation and competition into the market, breaking Amazon's monopolistic grip on the publishing industry… we will appeal the judge's decision."
Meanwhile, Assistant Attorney General Bill Baer, who is in charge of the antitrust division of the Justice Department, applauded the verdict.
---