Man Booker Prize winner: 5 surprising things about Eleanor Catton's victory
(Read article summary)
Writer Eleanor Catton took the Man Booker Prize for her novel 'The Luminaries.'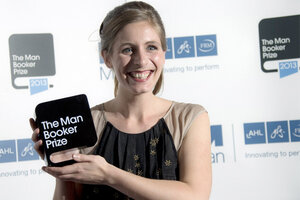 Joel Ryan/Invision/AP
Author Eleanor Catton captured the 2013 Man Booker Prize in a year in which judges were praised for selecting a diverse roster of nominees.
New Zealand's Catton, who won for her book "The Luminaries," beat out well-known authors such as Jhumpa Lahiri, who was nominated for her novel "The Lowlands," and "Harvest" writer Jim Crace, who was thought to be the frontrunner, according to the Telegraph.
Robert MacFarlane, the chairman of the judges' panel, called Catton's book "extraordinarily gripping" in a statement.
"We read it three times and each time we dug into it the yields were extraordinary, its dividends astronomical," he said.
Catton herself is an out-of-the-ordinary winner for the prize. Here are five surprises connected with her victory:
1. Catton is the youngest writer ever to capture the prize at 28, with writer Ben Okri previously holding that title after winning at age 32 in 1991 for his book "The Famished Road."
Last year's Booker Prize, which was won by writer Hilary Mantel for her book "Bring Up the Bodies," was also a year in which a record was set – Mantel became the first British author and first female writer to win the prize twice.
2. Catton is only the second author from New Zealand to take the Booker, with Kiwi writer Keri Hulme having secured the prize in 1985 for her novel "The Bone People."
3. Catton's novel, which clocked in at 848 pages, is also the longest book ever to be named the Man Booker Prize winner.
Catton told the Guardian that she almost didn't realize how long her book was during the writing process.
"It's a curious thing about writing a novel – you never see it until it's finished," she said. "When I was nearing the end I started to get a sense that when I pressed save on my Word document, it took an awfully long time."
---