Independent bookstores capture headlines in 2013
(Read article summary)
Many were sounding the death knell for independent bookstores as first Barnes & Noble and then Amazon rose to prominence. But indie stores have surprised the naysayers.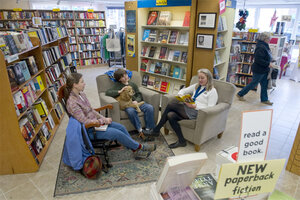 Ann Hermes
Is 2013 the year of the indie bookstore?
A popular piece by the Washington Post has revived talk about the resurgence of the independent bookstore.
That piece, "Independent bookstores turn a new page on brick-and-mortar retailing," follows the surprising success of an indie bookstore in Frederick, Md., and outlines the reasons behind the comeback of the indies.
By now, we've all heard the story: Due to the dominance of the one national chain left; the vast selection, influence, and undercutting prowess of online "bully" Amazon; and the booming popularity of the supposedly print-killing e-book, independent bookstores were to go the way of the tablet (stone, not electronic, that is).
But, as Monitor correspondent Yvonne Zipp wrote in a March 2013 cover story, "A funny thing happened on the way to the funeral."
---