First binge-watching, now binge-reading?
(Read article summary)
Some publishers are embracing a 'binge-read' publication schedule in which installments in a series are released only a few months after the last. Will readers respond?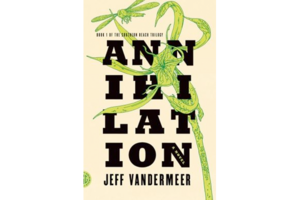 Everyone's familiar with the concept of binge-watching – settling in for an evening or weekend (or, if you're committing to a long-haul series, a few days) and getting through multiple episodes or seasons of a TV show as if you were downing handfuls of candy.
So has binge-reading now arrived?
The "Fifty Shades of Grey" series, erotic bestsellers by author E.L. James, set the template by releasing the three books within only a few months of each other (the first came out in June 2011, with "Fifty Shades Darker" following in September and "Fifty Shades Freed" coming out that next January). Now this month's "Annihilation" by Jeff VanderMeer, which was named one of Amazon's 10 best books of February and follows scientists journeying to a locale known only as Area X, will be followed by the second book in the series this coming May. The third book is scheduled to arrive in September.
Are the days in which fans waited years for a new installment (there was a three-year gap between "Harry Potter and the Goblet of Fire" and "Harry Potter and the Order of the Phoenix") long-gone?
Publisher Dutton is releasing a sequel to the new novel "Archetype" by M.D. Waters five months after it published the first, and Dutton associate publisher Christine Ball told the New York Times they're just filling a need.
"Consumers want to be able to binge-read or binge-watch," she said. "We wanted to give the consumers what they wanted in this case."
Sean McDonald, an editor at "Annihilation" publisher Farrar, Straus & Giroux, was the source of the idea to release all three novels within a few months of one another. He said it's a way to satisfy readers who are intrigued by an author's ideas but who then wonder if the writer has an endgame in place.
 "I think people are more aware of series storytelling, and there is this sense of impatience, or maybe a fear of frustration," he said. "We wanted to make sure people knew that there were answers to these questions."
There is a risk – if a book isn't a hit, publishers have already committed to the next installments, and as noted by Krys Tourtois of Michigan's Schuler Books and Music, sometimes a novel needs time for the word to get out. 
"I know in the past that the one-year mark seems to increase a lot of hype and buzz, and it gives it time for a title to build," Tourtois told the NYT. "You think about what happened with 'Harry Potter' – the timing helped make a phenomenon."
---