Fed races to ease market fears
Its rate cut of 3/4 of a point is the largest in at least 20 years.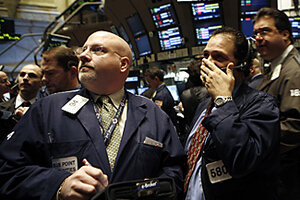 Brendan mcdermid/reuters
The Federal Reserve is racing to get ahead of the deteriorating economy and jittery markets.
The nation's central banker dropped short-term interest rates on Tuesday morning by three-quarters of a percentage point, a move not seen in at least 20 years. In a statement, the Fed indicated it would consider dropping rates some more in the future if the financial markets continue to plunge.
The Fed's action comes against a backdrop of roiling world markets. Japan's Nikkei stock average closed down 5.65 percent Tuesday – its biggest drop in percentage terms in almost a decade. In Hong Kong, the Hang Seng index fell 8.65 percent a day after enduring its biggest decline since the 9/11 attacks. European markets recovered from losses after the Dow Jones Industrial Average rebounded in morning trading from an initial decline of more than 400 points.
"The Fed had to react, they had to show they were prepared to show leadership when needed," says Lyle Gramley, a former Fed governor and a consulting economist at the Stanford Washington Research Group. "There would be no hope if they were seen as confused and unwilling to respond."
---