What will steady shaky financial system?
Two keys: Stabilize home values while keeping Wall Street calm, analysts say.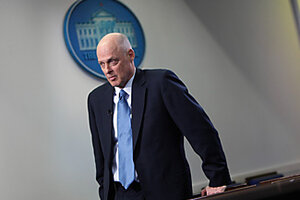 ron edmonds/ap
After months of wrenching upheaval in financial markets, the system hasn't self-destructed but it also hasn't stabilized.
What will it take?
With the nation now very likely in a recession, that's become an important question not just for bankers and policymakers, but for everyday workers and consumers.
Many signposts will mark the path forward, economists say, but they cite two crucial steps policymakers must make. First: Ensure that the current uncertainty about the value of houses is resolved, which will also help investors discover the now-uncertain value of mortgage-linked investments. Second: Prevent chaos from engulfing the financial system while that housing adjustment is taking place.
Unfortunately, the first step may take a while – many more months – and the second will continue to tax policymakers during that time.
Still, several recent signs are encouraging, including the apparent determination by Federal Reserve Chairman Ben Bernanke to move creatively and decisively when market jam-ups occur. He and his team are also lowering interest rates, including a move Tuesday that dropped the so-called federal funds rate from 3 percent to 2.25 percent.
"Bernanke's doing everything he can to end it," says Brian Horrigan, chief economist at Loomis Sayles, a Boston mutual fund manager. But "he can't miraculously change a bad asset to a good asset."
Experts differ widely on how far advanced the current financial crisis is. Some say it could last several more years, while others say the stock market may be near bottom now.
---