If inflation is up 3.9 percent, why does it feel worse?
One reason: Wages aren't keeping up with price rises.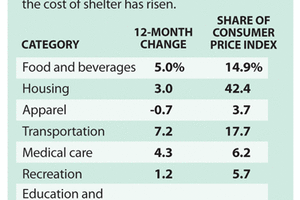 SOURCE: Bureau of Labor Statistics/Rich Clabaugh–STAFF
Between the gas pump and the grocery checkout, Americans have plenty of reasons to list inflation as Economic Enemy No. 1. But how bad is it, really?
The short answer: bad enough, but don't judge the problem only by what it costs to fill a fuel tank.
It's not surprising that many people feel as if inflation is running hotter than the government's consumer price index (CPI) suggests: just under 4 percent over the past year. Many Americans are paying more, especially if they commute long distances or are putting two kids through college. A perception factor is also at work.
The prices now rising fastest are the ones people see the most. Gas prices hit a record $3.76 a gallon Wednesday, according to AAA, up 39 cents in the past month. Food prices in April notched the biggest monthly jump since 1990. So while the prices of some important items bought less frequently – cellphone service, clothing, a house – have fallen or stayed flat, the view at the checkout counter is grim.
Another cause for worry: Wages are not keeping up with inflation.
"It's all bad," says Paul Trapani, referring to his living expenses. The Boston resident says all his costs seem to be rising by at least 5 percent, while pay raises don't match the increase.
"You actually get a pay cut," thanks to the inflation, Mr. Trapani says. "We just had Chinese food. I took out half the rice so I can put it into my gas tank."
Jokes aside, he has hit on a central problem for households across the nation. It's not that the government's inflation rate is understating the problem, many economists say. It's that inflation was higher in 2007 than in any year since 1990, and wages didn't keep up.
---