How to cut the price of oil
Energy costs have become a driving force of inflation.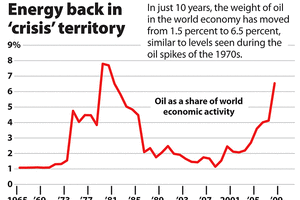 SOURCE: Merrill Lynch, as of May 23 /Rich Clabaugh–STAFF
Can the world do anything – fast – to stop the surge in oil prices?
A newly announced boost in oil production by Saudi Arabia is a start.
And recent steps by several Asian nations to cut subsidies for oil consumption should reduce global petroleum demand.
No guarantees, but such actions may ease the price pressures that pushed oil to a record $139 a barrel earlier this month. Energy costs have become a driving force of inflation besetting US and global consumers.
Policymakers don't have a magic wand to wave. The long-term challenge will remain: Demand for energy keeps rising even as it grows harder to boost oil production.
But energy experts cite a range of tactics that could provide some relief. Even efforts that don't bring a rapid change in supply or demand might have an immediate effect on market psychology.
Among the options:
•Nudge consumers toward conservation.
•Encourage more oil production.
•Ramp up investment in alternative energy sources.
•Discourage speculative investing in oil markets.
•Phase out subsidies for oil consumption.
"There's a lot of low-hanging fruit out there," involving boosting supplies or curbing demand, says John Kilduff, energy analyst at MF Global in New York. "Longer-term plans might get rewarded here in the marketplace today."
Much of this past year's run-up in oil has to do with prospects for supply and demand looking years into the future, he explains. It's hard to sort out how much of that can be classified as a speculative "bubble" and how much is a rational sobering of the outlook for supply and demand.
---