New effort to modify at-risk home loans
A housing alliance, including some of the nation's biggest lenders, is working with mortgage-service companies to modify loans rather than let them fall into foreclosure.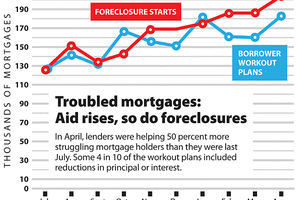 SOURCE: Hope Now Alliance, with member banks' data and national estimates/Rich Clabaugh–STAFF
Industry efforts to reduce foreclosures are expanding and improving – a welcome sign of progress in what remains a race to keep up with rising mortgage delinquencies.
The Hope Now Alliance, a group including some of the nation's biggest lenders, announced Tuesday an agreement with mortgage-service companies to modify a greater share of at-risk loans, rather than let them fall into foreclosure.
Among other things, the new guidelines are designed to ensure that participating companies move quickly – deciding within 45 days whether they can modify a loan.
Also, Hope Now said it was launching the mortgage lending industry's first-ever guidelines for dealing with second mortgages. Often, it's been hard to offer relief on the terms of mortgages because many borrowers owe money to two mortgage holders with different interests in "workout" negotiations.
Housing analysts say that, although a full recovery in the housing market won't come with any overnight agreement, the moves by lenders represent a significant step forward.
"Any kind of improvements they can make are ... important," says Ren Essene, a housing market expert at the Joint Center for Housing Studies in Cambridge, Mass. "Clearly they're trying to respond just in time ... as they're learning on the ground what kinds of barriers the borrowers are meeting."
By cutting the number of foreclosures, the new steps could reduce the blight of hard-hit neighborhoods, especially in states such as Florida and California where the problems are most concentrated. And, by reducing the number of fire-sale home auctions, downward pressure on home prices could ease.
---
Follow Stories Like This
Get the Monitor stories you care about delivered to your inbox.