Troubled economy hits women hard
Income inequality, a real estate slump, and exposure to subprime loans play a role.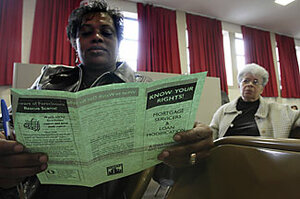 tina fineberg/ap
This economic downturn is taking a particularly hard toll on women, according to some experts.
The reasons: Much of the downturn is focused on the real estate market, where a disproportionately large number of women work, and substantially more women than men have subprime mortgages. But experts point to another cause: Women simply earn less than men, an estimated average of 80 cents for every dollar made by a man.
"Even though women may not lose as many jobs as men, they are more vulnerable simply because their incomes are lower to start with at the beginning of the downturn," says Heidi Hartmann, president of the Institute for Women's Policy Research in Washington. "They're also more likely to be supporting children, so for them any disruption in their income is very, very serious."
Historically, men have been more sensitive to the ups and downs of economic cycles. That's in part because many work in manufacturing and construction, two areas of the economy that do well in boom times but are particularly vulnerable during recessions, according to experts. Women, on the other hand, predominantly work in more service-oriented fields like healthcare and education, which have tended to be better insulated from economic cycles. Indeed, even during most of the worst recessions during the last 40 years, job growth continued among women, just not as strongly as during the boom times. That changed during the 2001 recession, when women lost jobs for the first time in recent history.
---