Buzz grows over state tax holidays
Tax-free days cost states money but can prod lagging American spending.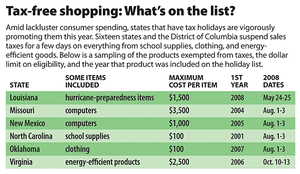 SOURCE: Federation of Tax Administrators '2008 State Sales Tax Holidays'/Rich Clabaugh–STAFF
The mother-daughter team of Renee and Kristen Turner stuck it to the man this weekend.
A new MacBook, iPhone, and printer in tow, the duo didn't pay a cent of sales tax, saving about $100. "That's a lot of money right now," says the elder Ms. Turner. The downside? They had to wait in line outside the computer store at Lenox Square Mall for nearly two hours.
Across Georgia, Alabama, the Carolinas, and the handful of other states that held back-to-school tax holidays last weekend, shoppers jostled for pens and pads, stood in line for new computers, and tried on sneakers in droves in what has become the year's second-biggest shopping splurge.
The stakes were higher than usual this year as consumers looked to pick up some value for their inflation-eroded dollars and restless retailers vied to recoup a 0.2 percent dip in consumer spending due to high prices.
"This is probably the biggest year we've ever had for sales tax holidays," says John Heavener, president of the Georgia Retail Association, in Lithonia.
To some, the growing popularity of tax holidays – and the willingness of states to hold them even in the face of dwindling tax revenues – represents a troubling shift in tax policy. Not only are states using a gimmick to manipulate consumer behavior, critics argue, but the resulting revenue losses can also have a destabilizing effect on how states govern.
---