Relief for consumers: prices falling
After soaring for months, prices for oil, rice, and other commodities are going down.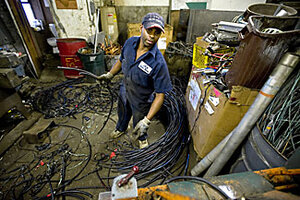 Ann Hermes
After sprinting to record levels this spring, the prices for basic commodities have now fallen 20 to 30 percent.
Prices are now lower on staples such as rice, wheat, corn, and soybeans. Also down are prices for metals such as aluminum, zinc, and copper. The commodity almost everyone follows – oil – is off nearly 20 percent as well, dropping Friday to its lowest level since May 1.
Falling commodity prices have important economic implications. They may indicate that the global economy – especially in terms of the role played by fast-growing countries such as China – is beginning to slow. The prices also take some pressure off the Federal Reserve to hike interest rates to counter inflation. Last Tuesday, the Fed kept short-term rates unchanged, but it did indicate it was still concerned about inflation.
The decline in commodity prices, if it continues, could also give consumers a little more money in their wallets to pay for something other than gasoline and groceries.
"The falling prices helps shore up consumer spending and also has an effect on inflation," says Jay Bryson, global economist at Wachovia Economics Group in Charlotte, N.C. "The Fed probably does not need to tighten interest rates now."
The prospect of interest rates remaining at low levels helped ignite a significant rally in the stock market last Tuesday, when the Dow Jones Industrial Average climbed 331 points. On Friday, the rally continued, with the Dow climbing 302.89 points to close the week at 11734.32.
---