A financial new world order?
Bush says reforms must improve, not fetter, the free market; Europeans hint at more robust intervention.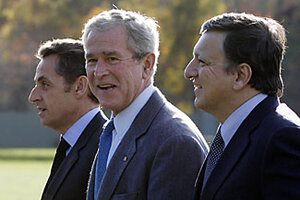 Jason Reed/Reuters
When President Bush hosts a world financial summit in the coming weeks, one of the least multilateral American presidents in decades will set in motion what could result in a full reordering of the global financial system.
The series of summits that Mr. Bush announced over the weekend at Camp David with European leaders at his side suggests a broad understanding among them: that the current crisis requires the kind of global regulatory reforms that have eluded major powers in the past.
Europeans especially are speaking of a "Bretton Woods II" that could do for financial markets what the 1944 summit at a resort in New Hampshire did for monetary policy.
But the call for a summit also underscores the degree to which a once go-it-alone presidency has shifted to embrace not only the necessity of international cooperation, but also a role of global leadership.
"Talk of a Bretton Woods II has been around to different degrees for 30 years. But the fact it is getting started with an outgoing administration and especially one that was at the center of a significant crisis between America and Europe, between America and the rest of the world, suggests the recognition that there is urgency in the air," says Simon Serfaty, an expert in US-Europe relations at the Center for Strategic and International Studies (CSIS) in Washington. "It also adds legitimacy to the coming process."
---