Toyota recall: Three questions left unanswered
Toyota says a brief shift in its computerized braking system caused consumer concern. But consumer complaints show a potentially deeper problem.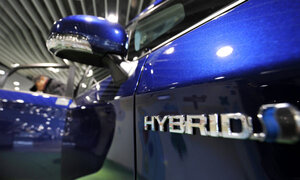 Kazuhiro Nogi/AFP/Newscom
Toyota's three-part recall could bring as many as 8 million vehicles into dealerships around the world. From slipping floor mats to sticky accelerator pedals to a fraction of a second's difference in the Prius' braking system, each of Toyota's three recalls had a theme: Drivers were losing control of their surging?? vehicles.
After several public mea culpas by the company's CEO and the president of Toyota (USA) taking questions live on Digg, the company is moving quickly to reassure drivers that it has covered all the bases. But three questions remain unanswered.
1. Will the Prius fix work?
Toyota says customer concerns stem from when drivers try to brake on a bumpy, slick, or otherwise rough surface, the car's skid control can engage and delay the braking system for 0.46 seconds. The software update will reduce the time of the delay to 0.4 seconds, the time delay on previous generations of the Prius, a Toyota spokesman told the Monitor.
Toyota says only the 2010 Prius uses the new braking software. Separately, the company has recalled 2004-09 Priuses because floor mats can jam the accelerator.
However, as far back as 2005 numerous owners of these older Priuses have complained to the National Highway Traffic Safety Administration that when braking on rough surfaces, their cars actually surge forward.
---