Tax day 101: top mistakes to avoid on your tax return
With tax day approaching, here are some common tax-return mistakes that Americans make. A key stumbling block: the 'making work pay' credit.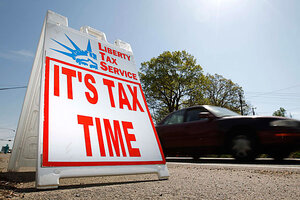 Kevin Lamarque/Reuters
Not much time is left before the IRS buzzer sounds and those tax forms are due.
As Americans pore weary-eyed over spreadsheets and instruction booklets, sometimes it's easy to overlook important mistakes. Many are easy to avoid, if you take a moment to review some basics before tax day.
In honor of April 15, here are 15 common tax-return mistakes to avoid, according to tax experts and the Internal Revenue Service itself.
1. Being ignorant about the "making work pay" credit. This was President Obama's tax-cutting pledge on the campaign trail. It's now a reality, worth up to $400 per worker. But people haven't learned how to claim the credit properly, causing it to pop up as the most common mistake cited by the IRS this year. (As of April 2, the agency had notified more than 575,000 Americans of this error.) Open up "Schedule M" and grab those savings.
2. Not taking the home-buyer tax credit. The housing market has been tough. It's even tougher if you bought your first home in 2009 and don't take advantage of a tax credit worth up to $8,000. Information is available at a special IRS Web page.
3. Passing up the opportunity for tax-free retirement savings. April 15 isn't just tax day; it's also the deadline for making contributions to an IRA (individual retirement account) for 2009. Whether you contribute to a Roth or traditional IRA, the result can be considerably reduced taxes on your savings. Build that nest egg if you can – and also report those IRA contributions as required by the IRS.
4. Not attaching W-2 forms. Staple it to the front of your return, if you're a wage earner.
5. Letting your refund go astray. Double-check the routing numbers if you're seeking direct deposit of a tax refund. An incorrect account number or financial institution routing number can cause your refund to be delayed or deposited into the wrong account.
---